I first met Jen as a passenger in the backseat of a Mercedes at Christmastime, on December 21st 1971. Jen's dad, a managing Director (President) of a company in South Africa, always drove Mercedes company cars, so Jen was quite used to these luxury cars by the time we first met. When I was away at war (fighting Cuba in Angola) she was courted by the son of a rich English industrialist, David, who went to school with Prince Andrew in England. He would whisk Jen away on expensive dates in his dad's Mercedes - complete with Chauffer, a fact Jen's mother never ever let me forget! When I arrived at university in Jen's 2nd. year at Cape Town university she broke off with Dave and our romance picked up where it had left off. Jen and I fell in love as teenagers, at 16, and most thought it was just a case of "puppy-love" and would soon disappear ... some are still waiting 49 years later. Well, it hasn't. My Dad, a travelling African Doctor. never owned a Mercedes. Where we lived in rural Africa (In the mountains of Lesotho) the terrain more closely resembled Tibet, It was not practical, better to drive a Land-rover. He raised us to think of it as a waste of money, that money could almost always be better spent on other things. Some people enjoy spending their money on fancy cars like Mercedes, fine designer outfits of Armani - but others prefer to save it for different things. Travel, houses, music... there are so many tempting things to spend money on. You just know when a purchase feels right to you. My mom, a cover-girl from the 1950's, enjoyed spending my Dad's money on beautiful clothes. My dad winced notably every time she travelled to the big city. Now it was finally my turn to indulge in an extravagance.
One day this last January, a good friend of mine, Edgar, a retired high-school principal, showed me some cars he had found on the internet ... and there it was! Instantly I knew exactly what was meant to happen and what was expected of me - still, just to be sure, Edgar and I went to have a look at it. Not only was it perfect, but I immediately saw the classic Fingerprints ("777") of our love story's Awesome Script Writer that I have grown quite accustomed to through the years (The license plate of VW-Golf on the RHS) So, of course ... without even test-driving it, I bought it. I have never owned a Mercedes, till now ... something that was never in my plans or even under my consideration. This little detail was well hidden away in the "script" of our love-story, I guess we just never spotted it or read that far.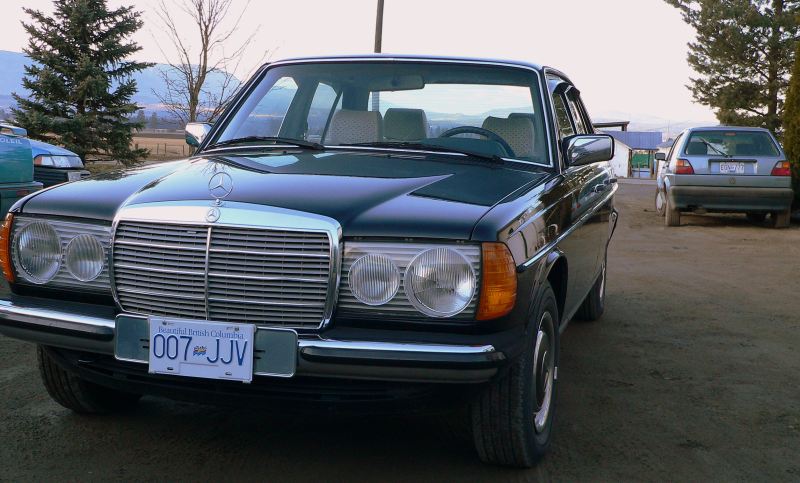 Now this was not just any old Mercedes, this was a spotless "Classic collector's car", imported from Japan, having belonged to some or other rather important person there, seemingly chauffer-driven and complete with embroidered seat and head-rest covers (with the Mercedes emblem) and even a front-fender flag-mount, a Mercedes Benz 300D. That was January, 2005, the roads still icy and salty, spring not yet in sight, so we had some time to plan. Immediately our sons and I went to work ... Jen was not to know for another 2 months! You see, every year, for the last decade or so now, we prepare a very special (often elaborate) surprise for Jen - kind of our way of all saying "Thanks!", knowing full-well that she was forced to give up a lot for our family and our love. I installed a Canadian flag on the fender-mount, and had this custom dash-cover specially made in the USA.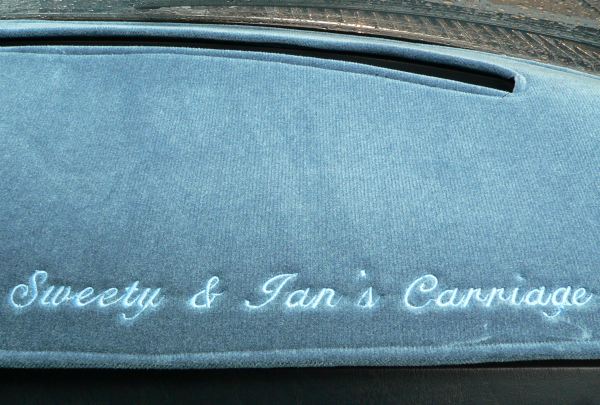 I searched for and bought a fancy Champagne/wine cooler and two long-stemmed glasses, took the last of our bottles of Champagne still left over from Jen's birthday trip to Paris 2 years ago, taped some really neat golden-oldies, including our song we danced to on our first date, "I can see clearly now" ... and Edgar lent us his captains-cap.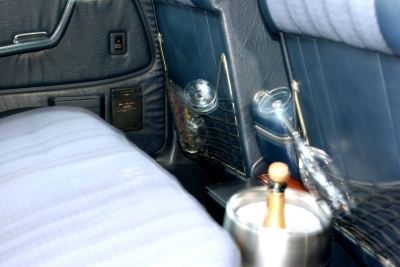 I found the perfect restaurant, founded by Countess Bubna Litite of Austria in 1926, situated right on the lake-shore. Some people may find spending money on things like this to be "Frivolous", but some of you may think that all of this stuff is fun ... and you know what, you are perfectly correct! Planning these surprises for weeks/months is really a lot of fun!

March 24th, the night before Easter: Jen got dressed for a dinner date, (With no idea of what was planned) She was led by our valet for the evening - our 18 year-old son Jonathan, blindfolded out the front door. Then at the right moment, it was removed: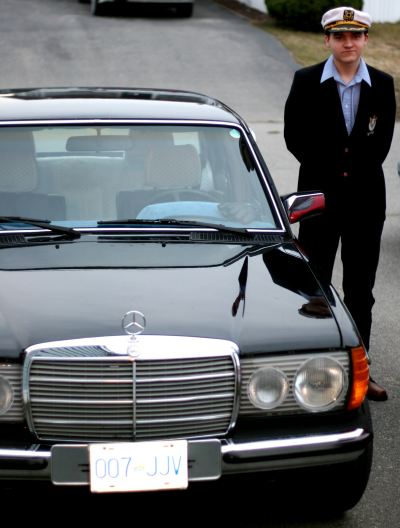 There was Daniel, our son (21), dressed up as a "Chauffer" standing next to a spotless Mercedes 300D, wearing the insignia of my old wartime SAAF squadron on his blazer, ready to whisk her away for a very nostalgic and special date! Now this was not her dad or some rich guy's chauffer and valet - this was Jens own precious sons playing those parts! That's really tough to top, well, impossible actually! This tongue in cheek one-up man ship all felt "long-overdue". Here is her candid reaction to all of this: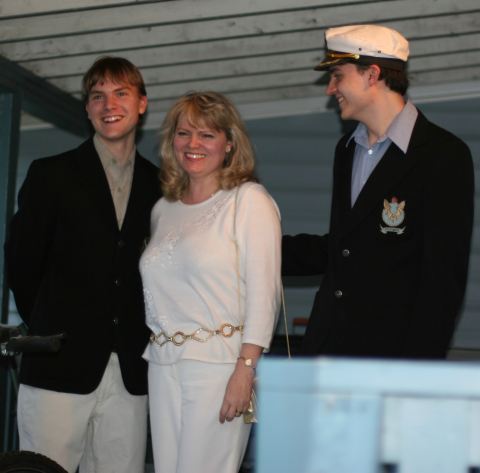 So, as the sun was setting over the valley, Daniel took his place as Chauffer and Jonathan helped Jen and I into our seats ...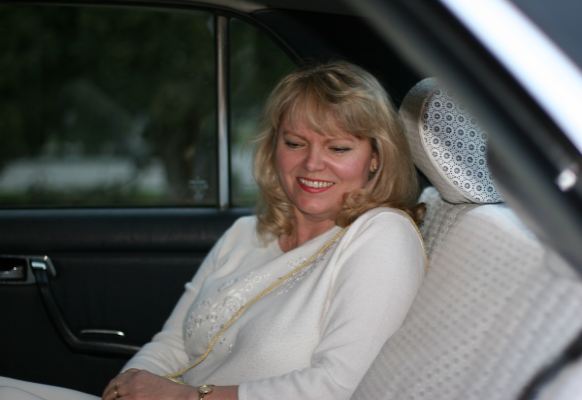 ... both of us sitting exactly where we sat on that day we first met in a similar Mercedes back in 1971.
I opened our last bottle of Champagne we had bought in Paris, and poured Jen and myself a glass.
Jonathan turned on the music on the vintage cassette deck, a collection of the actual songs we first danced to
back in Dec of '71, and with our song "I can see clearly now" playing ... Daniel whisked us away on a magic-carpet ride.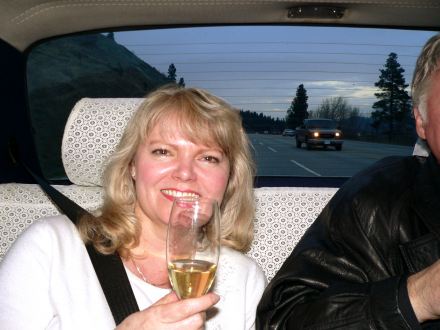 One hour later, with the flag gently flying on the fender of this stately old diplomat's Limo, both now heady with Champagne,
with the tunes and lyrics of so many nostalgic love-songs still playing and dancing in our heads, we arrived at the restaurant: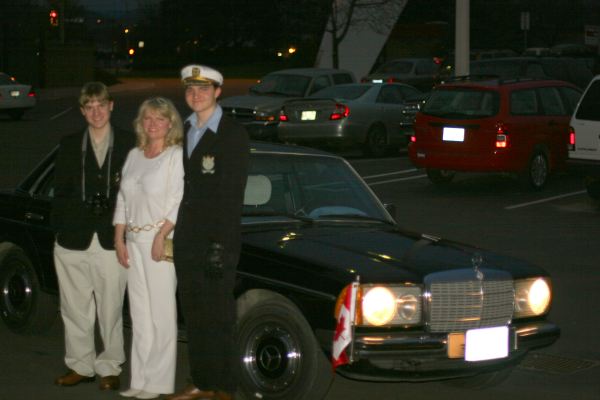 There, watching the lights of the city shimmering over the lake, we took our places. After 34 years of loving each other (It's 49 now) almost 26 years of marriage (40 now), and having been gifted with two fine sons, Jen and I are still madly in love with each other, and we often include our sons, as you can see, as an integral part of this hard-earned love story. We pray one day they find true-love too.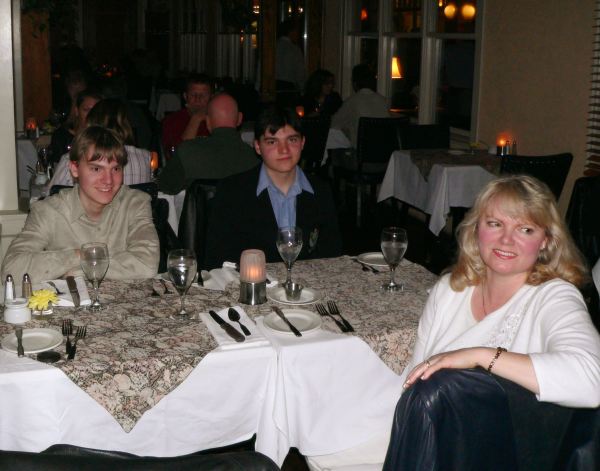 I'd have to say, this finest Aussie lamb was just perfect! Lamb never ever tasted so good!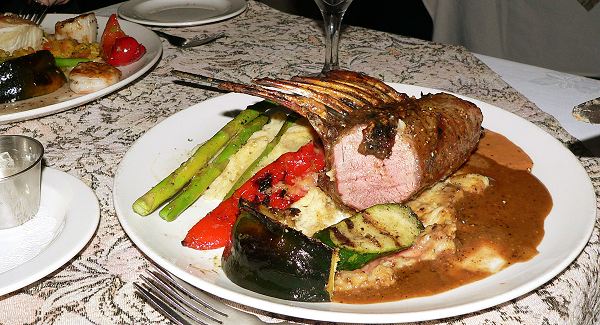 After dinner we all went for a stroll on the moonlit boardwalk, Jen and I some 20 yards or so behind our talkative sons.
(photo courtesy of our youngest son - who "caught mom and dad on camera" doing what lovers the world over enjoy doing)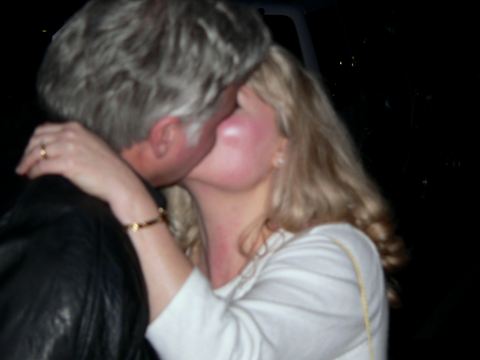 Four hours later ... but not quite done yet, Daniel went to fetch the car, Jon opened the doors and we got in, all very thankful to our dear God for having gifted our family with such a very precious gift those many years ago ... the special gift of true love. Where would our family be today without it? Now this was Easter-eve and we had one more important "mission" planned ... our human way of saying "Thank You!" You see, we had just all enjoyed a memorable and loving dinner-date perhaps as far as some 100- 200 yards from Jennifer's mother's home - you know, the person who disowned Jen for not marrying the rich and well connected English Industrialist's son, and the one person who has been our love's and family's single worst enemy. Still, some 34 years later, she stubbornly persists in that regard! So, Daniel gently turned the purring old Mercedes into Jen's mother's neighborhood and there - the night late and most people tucked away inside their homes, Jonathan and I delivered 28 (7 special gifts from each one of us) carefully prepared "Happy Easter" gift packages, each with the complete movie of the Gospel of St. Luke - Campus Crusade's world-famous "Jesus Video project", along with a printed copy of the Easter sermon by the famous evangelist Dr. Robert Schuller Sr. (Of Crystal Cathedral ministries - the only man alive Jen's mom respects) titled: "What's so special about Jesus Christ", to the front door of every home. Of course Jonathan (who she has not seen since he was very young and thus would not recognize) delivered these to the dangerous half of this neighborhood, and I went to the less dangerous one! Well it was quite appropriate, it was Easter after all ... and who knows? Just perhaps Jen's mother watches that movie, reads the pamphlet and realizes that the most wonderful love story ever lived (and told) still persists some 2,000 years later, and that it is love that is important and love which wins the day (as well it should) and that it is love that God wants us all to learn how to abide by, and unselfish caring love that we are to practice daily, everywhere, with everyone.
Then, each with a glass of Champagne, the music from our youth softly playing, we were whisked away in this stately old German Classic, it's diesel engine purring softly. Later, back home again, as Jen and I were climbing into bed, doing my best not to make her laugh hysterically, I serenaded her with this old song :
Fairy tales can come true,
It can happen to you
If you're young at heart
For it's hard, you will find,
To be narrow of mind
If you're young at heart

You can go to extremes
With impossible schemes
You can laugh when your dreams
Fall apart at the seams
And life gets more exciting
With each passing day
And love is either
In your heart ... or on its way

*********************************

[ If you're among the very young at heart ...

(if your faith is like a child's) ]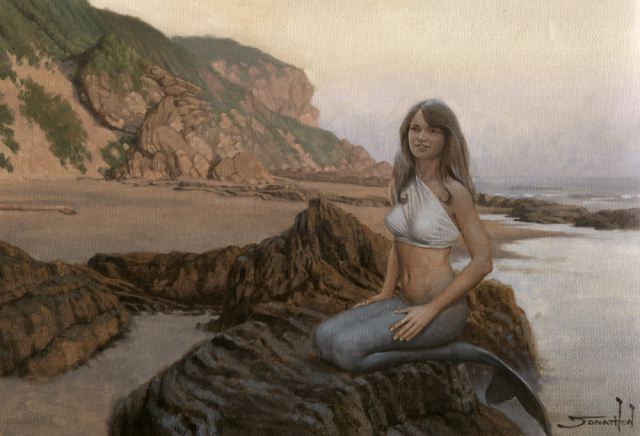 [Recreated from period photos of Jennifer (16) this painting exchanges a blue bikini bottom for a mermaid's tail]

[ Well, fairy tales can come true ... It really could happen to you! ]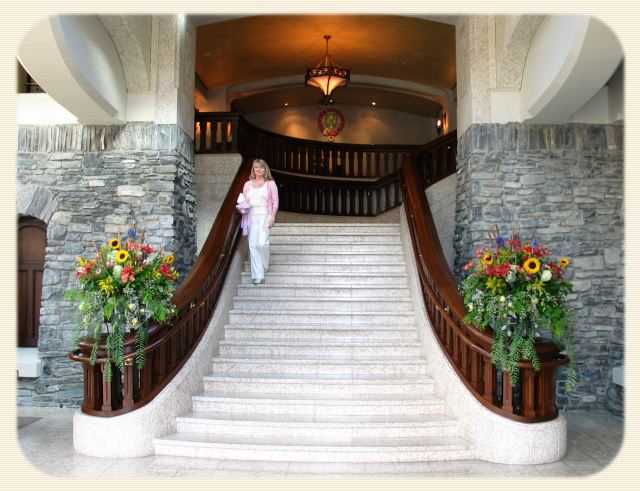 Jen (46) 10yrs ago walking down the stairs of her favorite "Castle", host of many a fine banquet for our family - Banff, Canada
I hope you have enjoyed reading this story. When you read these novels, the significance of this
particular little romantic date becomes clear, as this realization sets in - That this date happened at all ... is a miracle!

A near-perfect Cross-channel blend ...

If you detected a slight "Bavarian" look and feel to all of this, it's probably because (going back some 300yrs to when my family arrived in South Africa, from Europe) I am 50% German, 30% French, 10% Dutch, 10% Scandinavian and 0.0% British. But Jen, on the other hand, as best we can figure, is 90% British (mostly English and Scottish) and only 10% French ... and considering where and in what era we were born, this fact alone should have made us bitter foes - not friends, sweethearts or a couple. You see, we were both born in the 1950's and raised in Colonial Africa (South Africa) which had a long and fairly recent history of these two European groups feuding bitterly, dating back 70 years, to almost all of Queen Victoria's reign. The Anglo-Boer war had ended just some 54 years prior to our births, and our two families had been on opposite sides of that conflict - a war which saw the British commander, Lord Kitchener, in an effort to force victory on British terms, burn down the farms of the Boers (farmers) and place their women and children in concentration camps (YEP - Sadly, the British invented them, not Hitler) where they were starved to death or died of disease and exposure. In those camps, 1 in 2 of the Boer children died, including many in my family tree, and all in all, 25% of the Boer population - 3 times more women and children died than did male soldiers on both sides of that conflict. So it was that deep-seated animosity (over this British-genocide) which still lingered within Boer families, whilst stubborn unashamed pride (for a "Glorious" victory) persisted amongst the victors. Naturally this continued to divide these European colonial cultures within South Africa for decades, and it still does. However, fortunately, as a young girl, Jen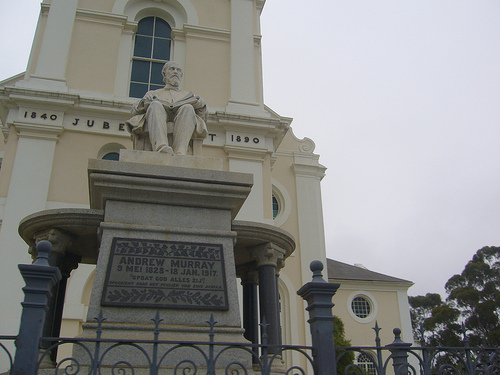 grew up in a town whose most famous citizen, the Reverend Andrew Murray (a Scotsman who learned Dutch to become a pastor among the Boers) was a well known 1800's author of 240 wonderful Christian works still widely printed and read today, and he had a huge influence on the spirituality of the Boers, but not, as irony would have it, on the British settlers there. Wellington, near Cape Town, was also a town with precious few English citizens. So, being greatly outnumbered by the people of Dutch, French and German decent (Afrikaners) Jen attended school along with them at the "Huguenot high school" ... named after the French Huguenots who fled Catholic persecution in France at the time of Cardinal Richelieu and Louis XIV, "the Sun king", and dispersed all around the globe - many of whom to the Cape of good hope, where they established South Africa's wine industry There she played and grew up with them, and even dated them. For Jen, even mathematics and science were taught in the language of my forefathers (not hers) - Afrikaans. Thus the young Jennifer learned not only my language, but also all about my culture - one of her subjects being German, ironically a language I cannot speak. Though he was Scottish, Andrew Murray's acceptance came from within the Afrikaner community (the British settlers basically ignored him) and so it is that his statue stands prominently at the head of the main-street of Wellington, in front of the Dutch-Reform church, and his presence is hardly felt around the Methodist, Anglican or (worse) Presbyterian churches. Andrew Murray kept Wellington as his home-base from 1871 till his death in 1917. Anyone who knows anything about Rev. Andrew Murray will realize that the upshot of all of this was that the Boers were soon (largely) Born-again Christians with a wonderful Evangelical zeal - and they learned how important it is to forgive, whilst the British churches just could not overcome their pride (as the conquerors) enough to "listen-up" to any spiritual witnessing from their erstwhile victims, and thus they were, at best, merely ever-diminishing Sunday social clubs. Sadly (having attended both the Anglican and Presbyterian churches while living in Wellington) Jennifer left South Africa thinking she was a Christian simply because she went to those old "English" churches every other Sunday, and so did all of her family. That also meant that while many of these the British settlers still went around with their "superior" noses in the air, most of the Afrikaners had learned that, even though they were the victims, and had watched 1 in 2 of their children die ... they had to forgive their old foes and concentrate on God, Jesus and the Heavenly family.
Now, in case you may not have noticed, Jennifer was a very pretty young English girl, and though she would have preferred it to be different, this resulted in her having to endure a lot of jealousy and rejection from amongst the few (and far too proud) English girls in her town - ironically, her own people. But the Afrikaners not only accepted Jennifer as their friend, they treated her with dignity and respect. Well, just as fortunately, at the same time back in the 1960's - some 1,000km away in the mountains of Lesotho, not even aware of her existence, a young Afrikaner boy of 8, was sent away by his parents to be educated in a fine English (Anglican church) private boarding school, "St. Andrews" ... "thrown-in the deep-end of the pool" - to become an "English gentleman." So it was that I was instructed in the language, customs and culture of Jennifer's forebears, not mine. There I went to church every day - and TWICE on Sundays! So, I left Africa thinking that not only was I definitely a Christian, but I had exceeded my life-time church-going quota and there was really no need to ever return - that my dues were "all paid up". Then, when I was 16, 8 years after being sent to become an "Englishman", at Christmastime in 1971, I was walking back from the beach one day, to rejoin my parents and family at the campsite where we enjoyed our annual summer vacation, when a white Mercedes on it's way back from that beach, drove by, stopped, backed up and a sophisticated "40-something" English woman (Jennifer's mother) sitting in the passenger seat next to a silent distinguished middle-aged man driving that Mercedes, offered me a ride back to camp, to the caravan park. In the searing heat of the African Summer sun, I gratefully accepted, this leading to the passenger-side back door being opened for me, from within. I climbed in, finding, in that back seat - the fairest of 16 year old mermaids (still in her skimpy little blue bikini from her morning on the beach) with her long wavy chestnut brown hair cascading down around her shoulders bare ... That momentary meeting initiating a tumultuous, fast moving chain of events that rather resembled a huge complex display of dominoes cascading ... It's had it's moments ... it's challenges, but it's certainly not been boring! God has certainly used Jennifer and I (amongst countless similar examples) to once again show that true-love can bridge many of even the greatest cultural divides ... and so Jennifer became the first person of purely British decent in my family tree, which goes back to 1752 in Africa. This Christmas (2020) will mark the 50th for Jen and I. Jen and I have been in love for all of those years - yes, most people trivialize the love a 15 year old girl and a 16 year old boy feel for one another - but we, and time, have proved them wrong. We're still very much in love - so I am very tempted to finally say "The rest is History", however who really knows but our awesome Matchmaker ... and by that I do not mean her mother! You see, to Jen and I - with the benefit of hindsight, we clearly see the Hand of God having so deftly and purposely orchestrated that, our first meeting, and the many joyous reunions that followed so many sad, forced farewells, and then thankfully guided so much of our life story afterwards! We have no doubt that God, the Ultimate Universal Romantic, is the gracious sponsor of our love story! God truly is the universe's Champion of True Love ... in so many ways! People who've had "the other guy" choose a mate for them, with the benefit of hindsight, all knowingly concede this point. Well, we lived in North America or almost 28 yrs, and to be sure, a lot has happened since the Christmas of '71, but time and events have shown that Jennifer and I are an almost perfect cross-channel "European blend". We both speak English fluently, and we both still speak a colonial dialect of Dutch (Afrikaans) fluently. It's great for Romantic dates in public places, since few people in N. America, or elsewhere, can understand it. We get to talk freely to each other over tea cups or wine glasses, with only the twinkling of our eyes possibly betraying the content of our discussions, and sometimes the odd word being just a little too similar to an English word. And one day someone is going to make a comment - also in Afrikaans! That will be very embarrassing, as it's our passionate secret language!
You know, it's really a lot of fun planning and participating in these surprises for Jen! I can't wait until next year (Christmas of 2005, actually - Update: notice the now older Jennifer pictured in a classic White Mercedes below?) for the next one to be unveiled. But, for now ... from our initial meeting in a White Mercedes 220 at Christmastime in 1971, to our fairy-tale date in a Black Mercedes 300D, with our grown sons acting as Chauffeur and Valet, on the Easter-eve of 2005 ...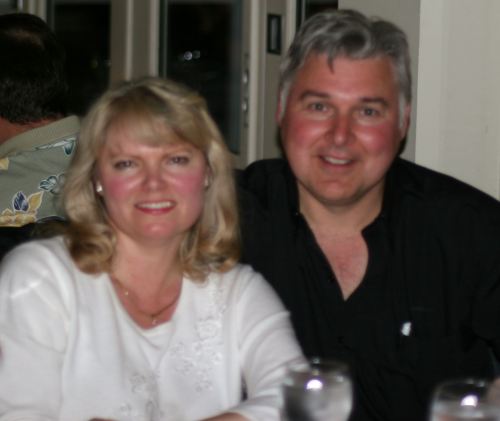 (The "White English rose" and her champion ... an old Germanic "Boer"; childhood sweethearts from Africa's colonial past)
We bid you "Farewell", and from Jen and Ian, Dan and Jon, a happy "Happy Easter and Life!"

PS. So, who says Christians can't be Romantic, that we do not understand what unselfish love is all about?


I mean, really, just look at our role model, Jesus ... that kind of perfectly unselfish love is, well ... awesome!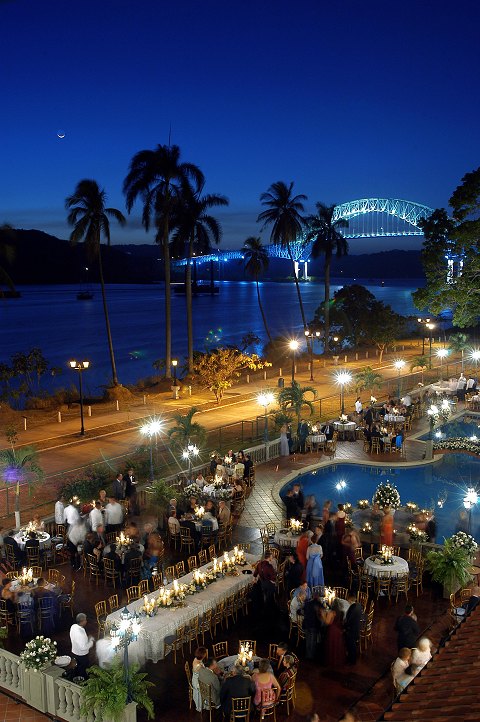 Soon after this Easter romantic date, our family, finally tired of almost 4 decades of rejection, sold our dream home in the forests of British Columbia and packed our belongings into a container to be shipped by sea. Then in our minivan, along with Happy, our 11yr old doggie, we set out on a 11,000km perilous, epic 23-1/2 day overland voyage to freedom and a new life in South America. Finally we all ran out of patience ... and simply belatedly eloped. Here we now regularly enjoy romantic dates in this beautiful, warm, colorful land of "Far, far away".

This contemporary Christian love-story served as inspiration for a series of novels available from AMAZON penned by our son. Turning the clock back to 1971, to our first summer romance, we never imagined, not even in our wildest dreams or nightmares, this particular outcome - but also not the many strange twists and turns that our love-story was forced to continuously confront, endure and overcome. When you wish for a Fairy-tale life, remember - "Fairy tales can come true ... it can happen to you!" And please do remember that Fairy-tales are not harmless, simple, happy little stories! They are dangerous, often sad, stressful for most of the story - only at their end, comes the "Happily ever after".
As you read above, before we left for our new land of "far, far Away", we tried 1 last time to get Jen's birth-mother to "soften" her rigid stance against our love and family. This was not the first time we had done so, but it seemed appropriate that if we were dining so close to her home (on Easter-eve) that we do so, yet again.

Click this link for: Snow-white, will you marry me?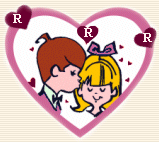 and again? and again?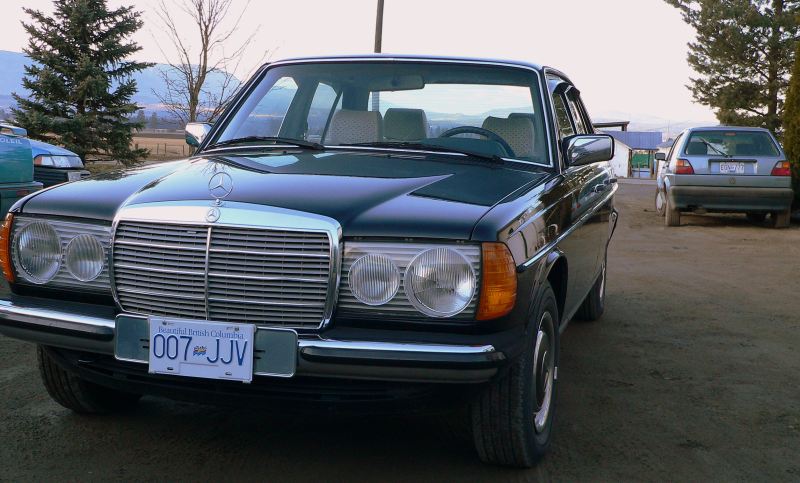 www.Snow-White.US The ecstasy, dangers, agony and rewards of falling in love with